Architecture Expo
Connect with the AEC industry
The Architecture Expo at A'23 is a networking hub for the AEC industry, and it's packed with 500+ brands, a diverse range of experts, project-changing ideas, and pioneering solutions. It's your ticket to building better relationships.
---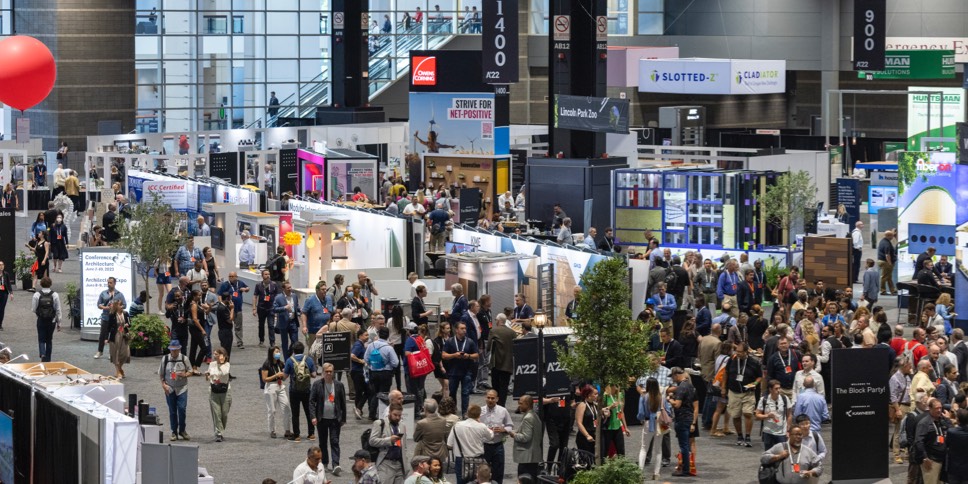 A new Architecture Expo, powered by AIA
Get ready for a new expo experience. Now owned by AIA, the Architecture Expo at A'23 is designed for networking, collaboration, and discovery. Nowhere else connects you to such a diverse range of expertise and thought leadership while giving you access to the full product experience from 500+ of the building product manufacturers architecture professionals rely on most. More than 100 new brands will be on display offering business services, innovative products, software, technology, and more.
The expo happens June 8 and 9, 2023, with dedicated expo-only hours each day so you don't miss a thing.
The networking hub for the AEC industry
The expo is your ticket to building relationships across the AEC industry. It's a dynamic hub of knowledge, expertise, and influence across a diverse range of skill sets and professional positions. And it's where you'll meet experts behind the newest products and materials and the people who are using them in creative, new ways.
One-on-one time & technical advice
Our industry is brimming with innovative products and materials. But architecture professionals don't always have access to technical experts to answer their product questions—until now. A new feature in the A'23 app lets you schedule one-on-one meetings with exhibitors before the show.
CE with exhibitors
Take a short course with leading building product manufacturers, right on the expo floor. 60+ courses cover topics including sustainability, wall systems, paint technology, coatings, wood innovations, and much more. These courses are extremely popular—register early to reserve your seat.
AIA Sample Gallery, powered by Swatchbox
Expo is known for bringing together the world's top building manufacturers. The AIA Sample Gallery, powered by Swatchbox, makes it easy to discover, touch, learn about, and order material samples at the expo, for free. Download the Swatchbox app to get started, then make the Sample Gallery your first stop. Scan QR codes to request samples in the gallery and across the expo floor.
Interactive experiences
This wouldn't be the Architecture Expo without a few fun surprises to inspire you and help build connections. We're planning games, galleries, parks, wellness activities, an experience for emerging professionals, and a puppy party! The AIA Booth will be at the center of it all, with daily programming, events, and more. Stay tuned for details.
The Block Party!
Conference's biggest party is The Block Party, and it's taking over the expo floor Thursday, June 8, from 5–6:30pm. Visit exhibitors, parks, and themed hotspots for live entertainment, food, and drinks. Catch up with colleagues and friends, mingle with peers, and meet new people. The entire AEC industry will be there to welcome you.
Expo hours
Thursday, 10am–6:30pm
Friday, 9:45am–4pm